May 13, 2020, Nirmala Sitharaman released the details of the economic package in the first installment. An economic package was announced by Prime Minister Narendra Modi. Which is ₹ 20 lakh crore between the corona lockdown. Finance Minister Nirmala Sitharaman announced the first installment of the government's economic package to fight the coronavirus epidemic. Its objective is around the economic package 'Self-reliant India campaign' in all sections of society including the middle class, SME, laborers, farmers, and industry. In the next few days, Sitharaman will release more information about the incentive measures being taken by the Modi government.
Major announcements for MSME sector
Finance Minister Nirmala Sitharaman said, "We will not forget our responsibility towards the poor, the needy, the migrants, the disabled and the old." He said, about 120 million people get jobs in medium, micro, small and cottage, home industry. In this, a collateral-free loan of 3 lakh crore will be given to the MSME sector.
There will be no guarantee in this. It will last for four years. This benefit will be given to those industries whose outstanding loan is less than 25 crores and the turnover does not exceed 100 crores.
This will benefit 4.5 million MSMEs. MSMEs get relief from EMI for 1 year, MSMEs up to Rs. 25,00 crore.
The Finance Minister said that those MSMEs are doing well and expanding, but they could not get facilities. Funds of Funds are being started for them. This will allow MSME to expand. Apart from this, Rs 20,000 crore will be released for loans to 2 lakh MSMEs in crisis.
READ   Current Affairs Weekly One Line: 4 May to 10 May 2020
Now the micro-industry can invest Rs 1 crore from 25 lakh. The small industry will be able to invest up to 10 crores.
To promote local industries, the rule of global tender of less than Rs 200 crore was scrapped.
30 thousand crores for NBFCs
The Finance Minister said a special liquidity scheme of 30,000 crore is being launched. Housing finance and microfinance along with NBFCs have also been added to this amount.
The government will also give its guarantee. Apart from this, a partial credit guarantee of Rs 45,000 crore will be given to NBFCs.
Big announcements for job occupation
The government will submit EPF for three months
The Finance Minister said, during the last poor welfare package, the government had decided to submit EPF on behalf of the employee and the company for three months. It has now been extended for 3 months. For this, the government will release 2500 crores.
This will benefit 3.67 lakh companies and 72 lakh, employees. This benefit will be given to people with less than 15,000 salary.
4.3 crore employees will get more salary now
The government is going to reduce the PF contribution from 12% to 10% to increase the salary in the hands of the working employees. It will be for three months.
However, the PF of central and state government employees will remain cut by 12%. It will be for those employees who have not come under the poor welfare scheme.
This will benefit about 43 crore employees. This will give an additional Rs 6750 crore to employees and companies.
  What is the READ Receipt Budget?
For power companies
In the relief package, a provision of Rs 90,000 crore has been made for power distribution companies. The Finance Minister said the income of electricity distribution companies has come down. The money will be given through the government companies PFC, REC.
Big relief to contractors
Contractors of all central agencies have been extended for 6 months at no cost. This would give them time to complete contracts for construction and goods and services.
TDS TCS cut
In addition, TDS rates will be reduced by 25% to increase liquidity. This will increase the liquidity of about 55 thousand crores. This will apply to all payments, be it commission or brokerage or other payments.
This will continue from May 13 to March 2021.
Date for filing income tax return extended
The Finance Minister has given increased relief in the matter of tax collection. Now the date for filing the income tax return of 201920 is till 30 November. Earlier, it was made on 31 July and then on 31 October.
MSME definition changed
The Finance Minister said we are changing the definition of MSME. Now increasing the investment limit for MSMEs. Now the criterion of turnover will also be brought. He said the investment of 1 crore and the turnover of up to 5 crores has the advantage of micro-enterprise status, both the manufacturing and service sectors.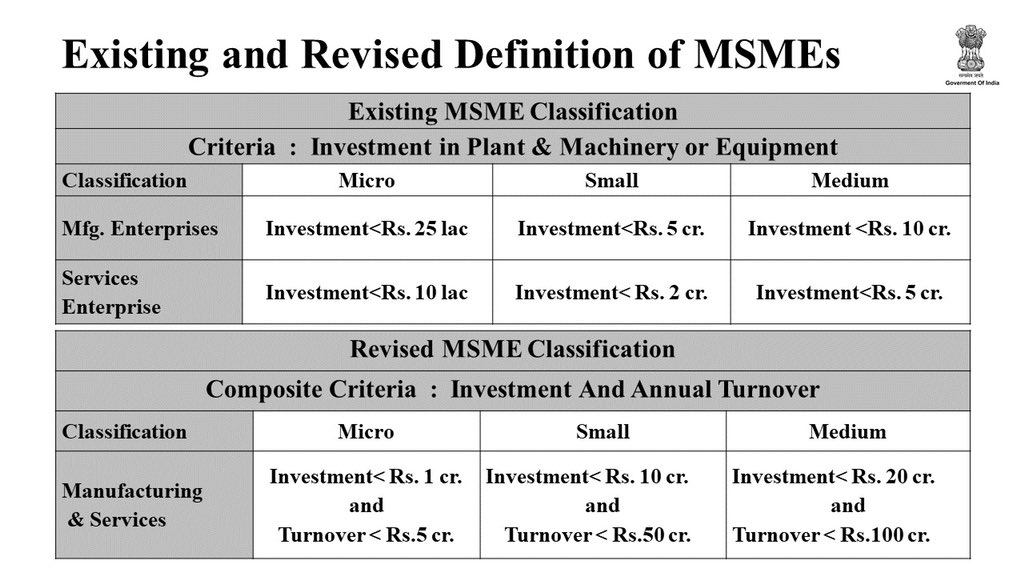 Big things about the Finance Minister's address:
Nirmala Sitharaman reiterated PM Modi's saying, 5 pillars of self-sufficient India are economy, infrastructure, systems, demography, and demand.
SHe said, through DBT, money is getting directly into people's account, no one has to go to the bank.
SHe said, in the last tenure many schemes were related to economic reforms, reforms like PM Crop Insurance Scheme, Fisheries Department, PM Kisan Yojana have been made for agricultural sectors.
The Finance Minister said, "The aim is to increase growth through the package, to make India self-reliant." SHe said self-sufficient India does not mean disconnect from the rest of the world.